Tech
Spectrum TV Internet Bundles vs. Unbundled Internet: Which Should You Choose?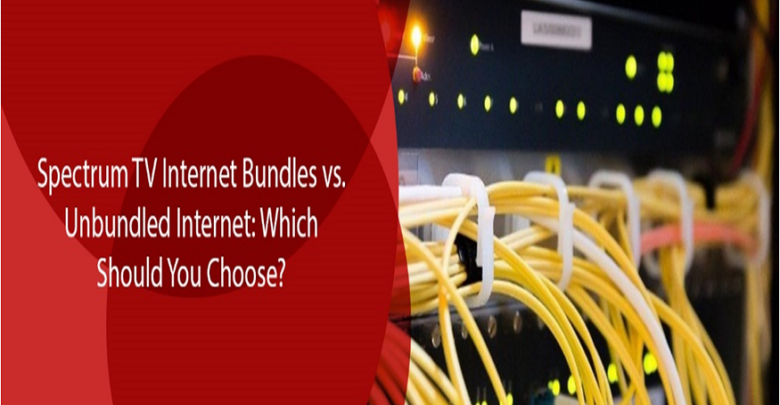 Spectrum does not upcharge for standalone internet or TV packages just to offer discounts on bundles to entice you to bundle their services. The prices are as low as possible for each service, whether you choose internet, TV, or a bundle of both.
Spectrum deals with TV and internet bundled together, cost the same as the sum of the costs of standalone Spectrum Internet and Spectrum TV. Spectrum Internet and Spectrum TV Internet Bundles also include Spectrum Advanced Wi-Fi and a Spectrum Unlimited Mobile Line free for 12 months.
Spectrum has a fiber-powered network used for both internet and TV data transmission. This allows for fast internet and high-quality TV even at peak times. So, if you need internet and TV both, it's a good idea to choose a Spectrum TV Internet bundle. But if you only want internet, you won't be missing out on any discounts with Spectrum Internet.
If you still can't decide which to choose, scroll down to find more information on Spectrum Internet and Spectrum TV to help you make up your mind.
Spectrum Internet: Features and Benefits
Spectrum Deals
There are three Spectrum deals you can choose from, namely, Standard, Ultra, and GIG.
Spectrum Internet Standard
Spectrum Internet Standard has a max download speed of 300 Mbps and a max upload speed of 10 Mbps. This plan is good enough for most homes with standard internet usage needs. Spectrum Standard plan is recommended for homes with up to five internet users.
Spectrum Internet Ultra
For an extra $20, you get Spectrum Internet Ultra with almost double the speeds. Spectrum Ultra has a max download speed of 500 Mbps and a max upload speed of 20 Mbps. Houses with up to 8 devices can have a smooth internet experience with this plan. Spectrum Internet Ultra is also recommended for smart homes.
Spectrum Internet GIG
GIG is Spectrum's fastest internet plan for residential customers. It's powered by a fiber-rich network with a max download speed of 1000 Mbps and a max upload speed of 35 Mbps. This plan is designed to meet the most extreme internet needs, such as in homes with pro gamers and steamers. It's also chosen by large smart homes.
Free Advanced Wi-Fi and Mobile Line
All Spectrum deals come with Spectrum One, which includes Spectrum Advanced Wi-Fi and one Spectrum Unlimited line for free for 12 months. The standard price of Advanced Wi-Fi is $5 per month while a Spectrum Unlimited line costs 29.99$ per month. Over 12 months, these two free services add up to a value of about $420.
Advanced Wi-Fi comes with a Spectrum Advanced Wi-Fi Router, which uses Wi-Fi 6 technology to provide high-speed internet coverage throughout the house. Advanced Wi-Fi also comes with a My Spectrum App which allows you to easily manage the network from your smartphone instead of having to enter the router's IP address in a browser.
It includes additional security features that protect you from opening links that might have malware or scambaits. The Spectrum Unlimited mobile line allows you to use unlimited data on a mobile device, with limited speeds after you've used 20 GBs.
Consistent, Reliable Internet
Spectrum is one of the few ISPs that specializes in high-speed internet. Even the Standard package has a max download speed of 300 Mbps, which is the most widely available of the three. So if Spectrum deals are available in your area, it'll at least have 300 Mbps download speeds. If you decide to move somewhere else where Spectrum is available without terminating your service, you can rely on the fact that it'll be high-speed internet.
Spectrum also has an uptime of 99.9%. On average, you can expect a downtime of just 86 seconds in a day. Check all the Spectrum deals available in your area at BuyTVInternetPhone.
Spectrum TV: Features and Benefits
Spectrum TV Packages
Spectrum TV Select
Spectrum TV Select is the standard plan with popular channels such as History, TBS, ESPN, and Food Network. If you want more channels, you can add Entertainment View to the package which includes 80+ channels for $12. If you're a sports fan, you can add a Sports View with 20+ sports channels for $6. Other add-ons are also available such as HBO Max and SHOWTIME.
Spectrum TV Mi Plan Latino
Mi Plan Latino has 145+ of the best Spanish and English channels including Telemundo, History enEspañol, AMC, and Disney Channel. This plan costs $39.99 for the 12-month promotional period.
125+ Channels, Including HD Channels
Spectrum TV Select has 125+ of ESPN, CNN, Lifetime, Discovery, TLC, HGTV, and MTV. You can also watch channels that are available in HD at no extra cost.
85,000+ Popular On-Demand Titles
Spectrum TV Select has a collection of 85,000+ popular movies and TV shows available to stream on demand. These include Spectrum originals.
Conclusion
Spectrum TV internet bundles deliver a high value for money, so they're a good idea if you need internet and TV both. However, if you just need internet, you won't be missing out on any of the discounts by choosing a Spectrum Internet plan either.
Ready to get a Spectrum deal? Dial Spectrum's phone number now!