Tech
An Insight Into Building A Workout Trainer App
Today, our life is getting busier day by day, we spend most of our time sitting in an office. This has given rise to many modern problems like lower back pain, wrist strain, neck pain, stress, depression, anxiety and many such problems this lifestyle has taken a toll on our health. To tackle these modern problems we need a fitness trainer app in our daily
Life.
Many people are getting aware of this situation and want to get fit and stay in a healthy culture, all everyone wants is peace and good health. Everyone is unique and these people are looking for a different type of fitness solutions according to their preference. This has led rise to fitness and workout trainer apps. Such mhealth apps are a revolution in their kind. It's like a gym at your home, the person can be fit from anywhere around the world if they don't want to go to the gym.
Choosing the right platform
There are various kinds of unique users around the world. Some may prefer an android platform, while others may prefer an iOS platform. While some users want a hybrid application that can function on Android as well as iOS platform without any functionality changes.
Based on your earlier vision and requirements, conduct appropriate research to identify where a greater number of users are concentrated. For example, if you want to develop a premium based fitness and workout app, then the iOS platform would be a good choice. So, validate accordingly. The right decision will help you generate a higher Return on Investment (ROI).
Let's look into some of the basic features for fitness and workout trainer app development
All workout apps are different from other fitness and workout apps. Every app possesses its own unique features. Anyhow, we've singled out some common features that go with every application.
Profiles
Customer can generate profiles to identify themselves and maintain their fitness information. Here, customers can always see their workout history and keep regular logs.
Notifications
In fitness trainer app, notifications are there to remind customers about their health goals. For example, customers will be reminded on a specific time about workouts or the notifications can work as a motivation.
Tracking Activity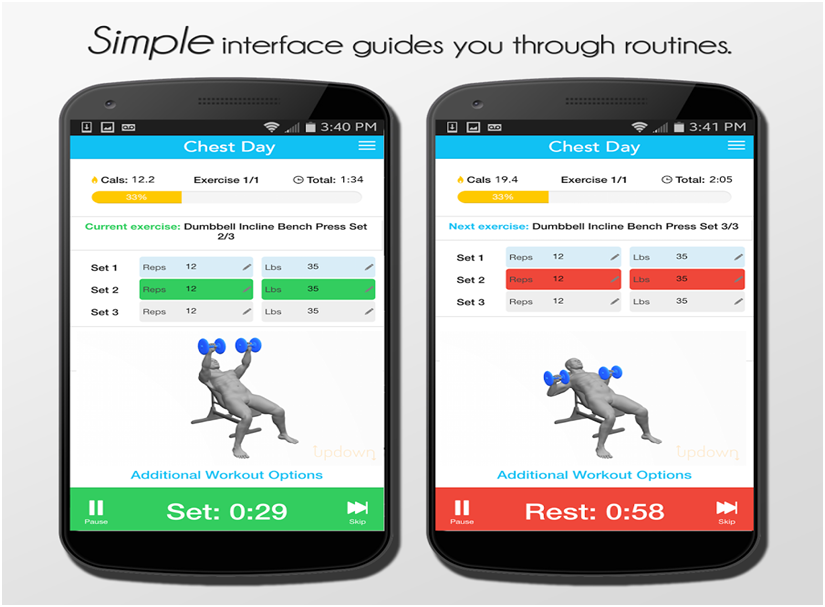 Fitbit, Apple HealthKit and Google Fit get connected to an app. Customers can track this activity and view it on their smartphone. These devices collect data including  Google Fit and HealthKit both have APIs to collect fitness data, including:
Calories burned
Weight
Heart rate tracking
Steps taken
Exercise duration
Heart rate
Pulse rate
The distance you covered while walking and running
Social media sharing
The users can share their achievements with family and friends on different platforms like Facebook, Twitter, or Instagram. APIs of Facebook, Twitter, Instagram, and other social networks can be integrated with the solution.
Various workout programs
To develop a solution with exercises, various workout programs need to be added. These programs are designed according to the customer's daily routine (work, active lifestyle, etc.). It is crucial to offer workout programs for different levels: beginner, intermediate, and advanced.
Search options
This is a crucial feature which many apps need nowadays. Customer on the app comes from unique backgrounds and have different needs according to their preference, so they should be easily able to search for trainers or programs that meet their unique needs. It's important to addAdd relevant filters such as type of training, price, the gender of the trainer, and type of workout program.
Video tutorials
Lots of people are new to fitness, they require advice and tips from a professional. Even experienced athletes need professional personal trainers advice from time to time, this can be done with the help of video tutorials. Also, real-time interaction can be done with video tutorials.
Mode of payment
To offer customers pay for the services, payment gateway can be integrated like Paytm, Google Pay, Stripe, and PayPal to handle transactions securely. Options can be provided to the customers, i.e: user can have a free application with ads, or user can purchase an ad-free version which comes with advanced features.
How do fitness and workout trainer apps earn a profit?
Paid apps
Some trainer apps are paid. So this is a direct way to make a profit. The right price will depend on the type of application, UI/UX, content, and target audience.
In-app purchases
In-app purchase is always a good option. Customers may want to buy different kinds of products like recipes for a healthy diet, Proteins, Protein bars, video tutorials or music tracks for working out.
Freemium
You can always sell additional feature on your free app. This monetization model is also called a premium subscription model, where basic features are free and advanced fitness plans or personal coaching services are paid.
Ads
Partnering with companies to advertise their products and services through the app, here revenue can be generated with ads. It is very important to understand not to irritate customers with ads. Only useful things related to the original product or services must be promoted.
Sponsored content
Partnering with gyms and fitness experts is a good way to monetize the app. They can improve your app with their expertise and distribute valuable content within your fitness platform.
E-commerce
Working out moves people to buy fitness gear. You can let customers branded goods, health products such as trackers via your application.
How much does it cost for the fitness and workout trainer app development?
The cost of a fitness and workout trainer app development depends on the features you want to implement and the complexity of those features.
Stage

Hours

Technical Documentation
Business Analysis

Specifications

Design Prototypes

From 40-60 hours
Designing
UI/UX Design
From 45-80 hours
Development
Front-end development
Up to 200 hours
Back-end development
More than 400 hours
iOS platform
About 400 hours
Android platform
About 480 hours
Testing
MVP Testing
From 80-100 hours
Support and Maintenance
Polishing

Bug Fixing

From 30-50 hours
Author Bio :
Rajat, Co-Founder of SoluLab and Zuriy, Ex-Principal Architect at Citrix, is an entrepreneur and Apps enthusiast with 10+ years of product development experience. He has a proven track record of building complex Mobile App Development& Software Products from scratch.