Lifestyle
Indian Folk Art Paintings From a Different Lens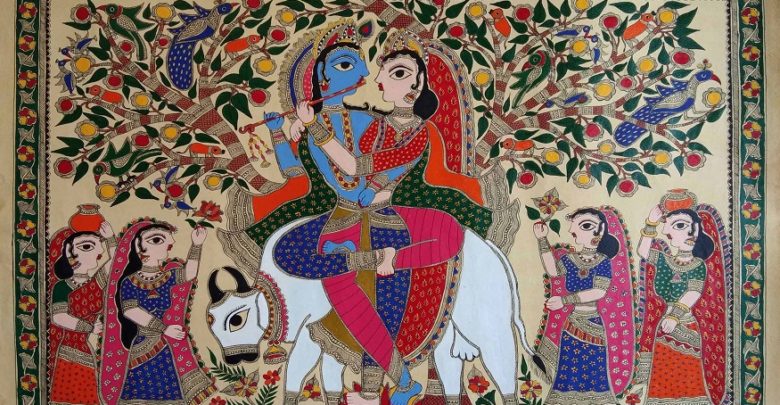 You may have come across a lot of Indian folk art paintings, without realizing the genres they belong to. Some had beautiful depictions of Lord Krishna, some had elaborate stories drawn inside small circles on the canvas, while others were made of just black lines instead of filling the outline with colours. Many of them adorn our home and office walls. Our only way of recognizing them is through these telling characteristics on each artwork.
Here is a list of different types of folk arts, seen through a different lens:
1. A Canvas of Sarees and Imli: PattachitraArt
The word Pattachitra has been coined by blending the words patta (canvas) and chitra (picture). Though it simply translates to 'paintings made on a cloth canvas', there's nothing ordinary about the paintings or the canvas. These folk art paintings are made on a special canvas created with cotton sarees. Tamarind (imli) seeds are soaked for three days to prepare a paste by crushing and mixing them with water in an earthen pot. This is used to hold together two pieces of cotton cloth—usually cotton sarees. It is coated with a powder of soft clay stone, sun-dried and polished with a stone to create a smooth and leather-like texture. This canvas is used to make a patta painting by chitrakars.
Different types of folk arts have their own set of unique tools to create paintings. To create a Pattachitra painting, artists relied on organic sources for colours and brushes. The handle for paint brushes used to make Pattachitra art was obtained from Bamboo. Bristles for the brush were made with roots of the Keya plant along with Buffalo, Calf and Mouse hair. One of the most important parts of understanding what are the typical characteristics of folk painting, is observing its reliance on nature for ingredients.
2. An Ode to Lord Krishna: PichwaiArt
Some of  Pichwai most famous artworks depict Shrinathji. This genre of Indian folk art paintings is basically an ode to the life of Lord Krishna's avatar as a 7-year-old infant, Srinathji. Pichwai art originated in Rajasthan's Nathdwara temple, almost 400 years ago. The word 'Pichwai' comes from 'pich' (back) and 'wai' (textile wall hanging), pointing to its primary function of decorating the wall behind the deities at the Nathdwara temple. Like Pattachitra art, traditional Pichwai paintings relied on natural ingredients for the canvas, colours and brushes. These folk art paintings are mostly used to express love and devotion towards Lord Krishna. Hence, they are packed with relevant motifs and bright colours.
While Pichwai art is traditionally made on elaborate canvases, they have been scaled down over the past years, reviving public interest in these folk art paintings. They can now be found on cushion covers, carpets, coasters, etc. Though the traditional Pichwai painting is filled with motifs and symbols, they never overshadow their main subject, i.e., Lord Krishna. Scaling down Pichwai art into more accessible artefacts has, in no way, diminished its grandeur and beauty. Perhaps, that is why it is one of the most sought-after types of folk arts.
3.The Ceremonial Art Form: MadhubaniArt
If you look at the history of folk art paintings, most of them started as a form of Bhitti Chitra—wall art. Madhubani art also began as an early form of graffiti, when Raja Janak instructed the residents of Mithila to deck up the city walls to celebrate his daughter, Sita's wedding to Lord Rama. Till date, some of the most famous Madhubani artworks depict scenes from marriage and other such auspicious ceremonies. When Bihar was struck by a devastating earthquake in 1934, a British officer, William G. Archer stumbled upon some Indian folk art paintings amidst the debris. This brought back Madhubani art, a dying genre, back to life.
Different types of folk arts use different ingredients for making an artwork. To create a Madhubani painting, an artist would traditionally wrap the tip of a bamboo stick with cotton to create a paint brush. They used matchsticks, twigs, nib pens and their fingers to fill in colours. The outlines in a Madhubani painting were made with rice paste before colouring the final shapes. There are various forms or folk art paintings when it comes to Madhubani style, depending on the technique used—Bharni, Kachni, Godhani, Tantric and Kohbar. Some use solid colours to fill the outline shapes while others make use of delicate lines to fill them.
4.The Art of Making Souvenirs: Kalighat Art
Pattachitra art scrolls were often used to narrate mythological tales, followed by a performance by Patuas (scroll painters). In Bengal, these elaborate folk art paintings were condensed into canvases with one or two characters, instead of putting together an entire story. Kalighat paintings evolved as a simpler form of Pattachitra art, so that British tourists and officials could take them back home as a souvenir. They were mostly painted on mill-made paper and portrayed Indian gods and goddesses from mythological folktales and religious epics.
When it comes to Kalighat art, there are two types of folk arts: Oriental and Occidental. Scenes from religious texts and Hindu tales form the backbone of Oriental Kalighat Paintings. Depictions of Radha-Krishna, Hanuman, Goddess Durga, Goddess Lakshmi, Shiva-Parvati, etc. are commonly found in thesefolk art paintings. An Occidental Kalighat painting generally captured contemporary themes like the freedom struggle, babu culture, etc.
5.Art as A Time Machine: Classical Indian Art
It's hard to pin down what are the typical characteristics of folk painting, especially for an art form as diverse as Classical Indian Art. This form of traditional indian art comprises four distinct schools of art—Mughal art, Rajasthani art, Pahari art and Deccani art. The best part of vintage Indian art is its ability to transport you to a bygone era with its beauty and historical accuracy. These Indianfolk art paintings are not just an essential part of our artistic legacy, they also act as historical documents and literature of the era they represent.
Mughal art was greatly influenced by Persian art and originated during Humayun's reign when he invited two Persian artists to India. A close look at Mughal miniature paintings will reveal the attention to detail paid by artists who captured the essence of that royal era by painting its architecture, fashion and culture on a canvas. The Rajasthani school of art was born in the 17th-18th century and became popular with Rajasthani miniature painting. These folk art paintings depicted festivals, seasons, social occasions and scenes from the Rajputana court. The Deccani school of Classical Indian art blended Persian and European influences, while the Pahari paintings portrayed natural motifs and sceneries.