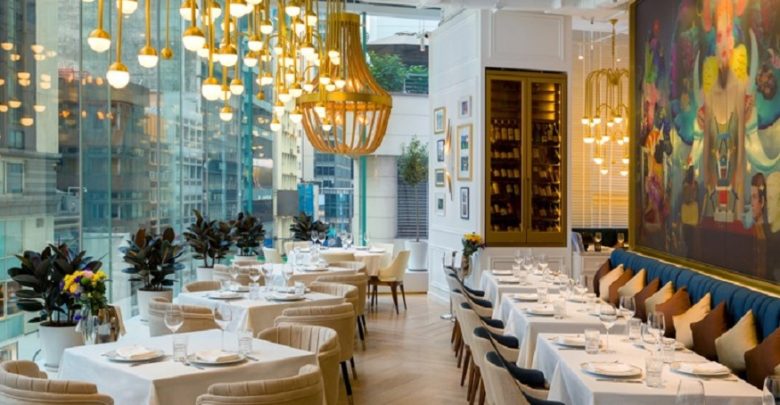 Interior Design plays a crucial role in any restaurant. When it comes to choosing a place to eat, customers don't just look for the quality of food, but also that of service and the environment. And nothing impacts the environment more than the interior design of that restaurant. It is important that the owners of a restaurant focus a great deal on the decoration of their eatery as it goes on to define their brand image. They usually divert their focus slightly away from restaurant design,The following interior design tips for restaurants can be incorporated by the individuals who are looking to give their place a design upgrade.
Use of Typography
These days, typography can be noticed as one of the rising trends among restaurants. It doesn't really matter if it's a grand restaurant, or a small coffee house, you can see everyone use typography. This design trend basically influences the artists to use texts or images to create intricate designs on the walls, glass panes, shelves, and so on. Now, it is up to the owners of the restaurant to get as creative as they can be when it comes to the use of typography. The design can feature their goals or philosophies related to food; it can feature a couple of items from their menu, or their cultural inspiration. It is a great idea to be used in interior design.
Going Green
This is an amazing interior designing concept to use in the restaurant as every restaurant is closely connected to nature. The produce that they use in their food items comes from nature. Now, the restaurant owners can either go with traditional plants, which they use almost everywhere, like homes or offices, or they can be creative and decorate the surrounding with plants that produce food items. For instance, fruit trees or berry shrubs! Different kinds of herbs could also be planted around the eatery. Needless to say that the use of plants in a surrounding, whether close or open, would definitely make the customers feel fresh and rejuvenated.
Theme Based
One of the most crucial things that the restaurant owners fail at doing before decorating their restaurant is picking a theme. Designing the interiors of a restaurant before picking a theme is like walking on a road before deciding where you want to get to. A common theme won't just result in absolutely stunning interiors, it would also make the entire task of designing quite simple. Themes don't have to be limited to cuisines, though it is one of the areas that you can consider for themes. You can consider elements like wood and metal, a local culture, a fragment of modern pop culture, or anything else for a theme to be used to design your restaurant.
Lighting Focused
In a restaurant, one of the things that matter the most is lighting. Lighting can play a crucial role in your restaurant especially if your restaurant has very few sources of natural light, or it stays open late till night. Lighting is a feature that helps lift up the mood of the customers. If you can be creative about the source of light, it can certainly turn out to be one of the wow factors. Also you need to work on how bright you'd like your restaurant to be. Too less and your customers won't be able to see what's on their plate; too bright and it will be straining to the eyes. Go out and experiment with a few unique looking light bulbs that offer moderate brightness.
Classics Work
If you don't want to think too much about designing your interiors, it's high time that you go with the classics. Classic restaurants never fail. Their objective is to offer the best food and service at a considerate price. With least focus on decorating the place with intricate items, and more focus on practicality, classic restaurants have the ability to run for decades. Simple yet comfortable tables and chairs, menus written on black boards, with specials that change everyday, and mellowed down colors. Classic interior design ideas never fail as they are the ones that everyone feels comfortable around. In simple words, classic means comfort.
Space Management
When you're designing your restaurant, or more importantly, at an earlier phase, when you're trying to perceive what kind of restaurant you're going to open, it makes sense to think a little. Do you want a restaurant that is always crowded, and the guests would be required to squeeze-in in a small amount of space? Or do you want it to be a place where the customers can relax and spend hours? Now, as per your vision, you'd have to manage your space. Of course, the better thing for a restaurant is to appear spacious, but you don't want to lose customers by putting less number of tables. Proper space management is required here.
A lot of times, restaurant owners are people with excellent knowledge of the culinary art, and amazing management abilities. A few of them are even gifted with the eyes that allow them to look into the aspects of interior design. Now, if you're someone who doesn't belong to this category, and has absolutely zero knowledge regarding decorating interiors, well, the best thing for you to do is to hire a professional. With an interior designer working for you, all your needs related to restaurant designing will be completed in no time. You are sure to save yourself from a lot of bad decisions and have a truly relaxing experience while designing your interiors.
The basic idea behind decorating the interiors of a restaurant is to spread a subconscious message among the people that the owners care about them, and so, they are passionate about offering their customers the most amazing food and service. Excellent interior design ideas help you achieve these goals. You can consider and apply the ideas mentioned above, or you can look for more. Never stay satisfied with the environment that you can create in your restaurant. After you've made the said changes, you'll definitely be proud of your place.