Travel
Top 5 Base Camp Treks Of Nepal That You Need To Visit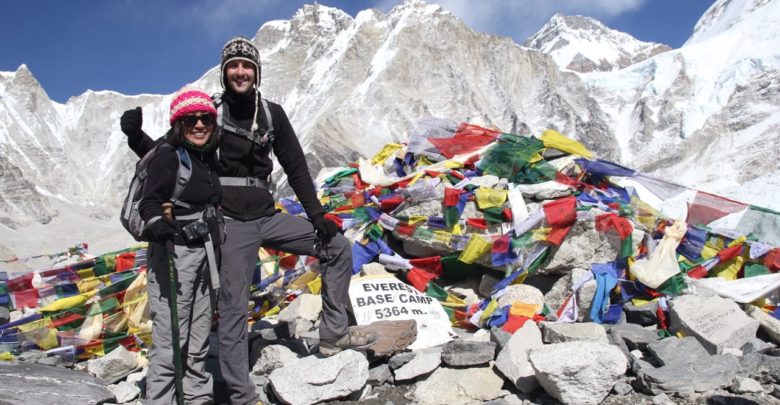 Base Camp treks can prove to be exciting trekking journeys, as they take the trekkers as close to the respective mountains as they can get. It is not within everyone's limitations to climb these enormous giants, and so the only thing that they can do to view them up close is to reach their base camps. Without a doubt, base camp treks are some of the most popular treks in Nepal. It is preferred by not just the local tourists, but also the ones from abroad. If you're looking for an ideal trekking option in Nepal, you should definitely go for one of these 5 base camp treks.
Everest Base Camp Trek
Without a doubt, Everest Base Camp Trek is the most popular base camp trek in Nepal. Around 30,000 tourists go for this trek every year. It is everyone's dream to experience Everest at least once in their lifetime, and to fulfill that purpose they make a visit to the Everest Base Camp. Everest Base Camp trek covers some of the most crucial destinations in the Everest Region, from villages like Dingboche, Pheriche, Lobuche, and so on, to religious heritages like DawaCholing Gompa, and airports like Tenzing Hillary Airport. It is considered by many to be the world's most dangerous airport. If you happen to extend your trek by a couple of days, you also get to cover the magnificent Gokyo Lakes, and the three high passes of the region, namely Cho La, Renjo La and Kongma La. Kala Patthar is yet another significant attraction of the trek.
Annapurna Base Camp Trek
Annapurna Base Camp trek is a mellow journey, and it is considered ideal for first time trekkers. It allows you to wander through the beautiful Annapurna region. It is short and exciting at the same time, making it an ideal trekking journey for families as well. Needless to say, the trekking journey takes you to the base camp of Annapurna. Apart from that, you also get to cover Machapuchhre Base Camp, which serves not just as an attraction, but also a rest spot. The numerous settlement areas that you cover during the journey include Kande, JhinuDanda, Bamboo, and so on. The trek also covers the villages of Ghandruk and Ghorepani, which are the two prominent villages in the Annapurna region. You also get to hike to the top of Poon Hill, a hill with an altitude of 3210 m. It is said to offer the most amazing views of the area.
Manaslu Base Camp Trek
Manaslu Base Camp trek is an amazing journey altogether. It's beautiful and rich with natural and cultural heritages. It is also considered as an underrated trek, as, for a long time, trekkers didn't really want to commence a journey on this route, despite all its attractions. However, things seem to be changing, as the route receives decent number of tourists every year. Manaslu Base Camp trek can be considered as a small part or a side trek to Manaslu Circuit trek. By adding a couple of days to the Manaslu Circuit trek, you could cover Manaslu Base Camp as well. The trekkers generally prefer to cover the entire circuit instead of just the base camp, so that they can enjoy the goodness of the entire region. From the route, you get to enjoy the magnificent views of peaks such as Himchuli, Ngadichuli, Manaslu, and so many more..
Kanchenjunga Base Camp Trek
Many consider Kanchenjunga Base Camp trek to be the toughest trek in Nepal. Apart from the regular natural factors like high altitude, rough terrain, weather, length of the journey, and so on, what makes this base camp trek challenging is the unavailability of numerous facilities that are generally present on a trekking route, mainly food and accommodation. When you go on this trek, you'll be forced to spend most nights in camps. There are two base camp treks in the Kanchenjunga region, namely Kanchenjunga North Base Camp trek and Kanchenjunga South Base Camp trek. These are the base camps to the two different peaks that are on the Kanchenjunga massif. A lot of trekkers tend to merge both the journeys so that they are able to cover the entire region in one go. This does make the journey more exciting and adventurous, but also lands up raising the difficulty level of the trek.
Makalu Base Camp Trek
Makalu Base Camp trek is yet another amazing base camp trek of Nepal. It takes you to the wonderful Makalu Base Camp. Makalu is the 5th highest mountain in the world, and it is situated in the eastern part of the country. Makalu, along with numerous other peaks and natural spectacles, is a part of Makalu Barun National Park, one of the most prominent protected areas of Nepal. It is one of the richest national parks of Nepal when it comes to the number of rare and endangered species that consider the park as their home. During your Makalu Base Camp trek, as you'll make your way through wilderness, you will definitely get to spot a few of these. This 17 days long trek takes you to numerous settlement areas such as Num, Seduwa, Tashigaon, YangriKharka, Dobate, and so on. These are beautiful, naturally and culturally.
Nothing compares to the experience when you're standing face to face against the mountains. After you've reached the base camp, you feel a rush of emotions in your body, from happiness and excitement to a little bit of sadness, especially when you realize that you've completed the longest section of your journey. Whatever the case, the experience that you gain in these 5 base camp treks of Nepal stays with you forever. If you're trekking enthusiast, and have never trekked in Nepal, and tried these base camp treks, well, you're missing out on a lot of fun. Pack your bags and be there at your earliest convenience. You'll absolutely love the experience.
Great Nepal Treks & Expedition is one of the leading travel companies that has been providing quality services and it has mainly attracted people with availability of customized itineraries. From simple day tours to adventurous mountain treks, Great Nepal Treks offer all.